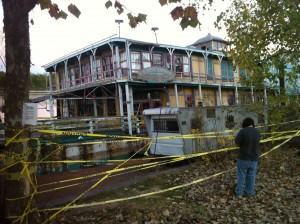 www.stltoday.com - Dock owner submits only bid but will consider offers other than scrapping
4 tweets
www.bizjournals.com - LockerDome CEO Gabe Lozano spoke yesterday at a conference held at the Chase Park...
23 tweets
www.stltoday.com - Station looking into Conners' IRS allegations in Facebook post.
23 tweets
www.stltoday.com - First-inning homer is first for Cards' third baseman this season. Cardinals are 7-1 against Brewers.
7 tweets
www.stltoday.com - JEFFERSON CITY • Senate Minority Leader Jolie Justus, D-Kansas City, didn't get her bill across the finish line Friday. But she still won a victory.
7 tweets
www.stltoday.com - WEBSTER GROVES • Firefighters quickly extinguished a fire Saturday on the roof of Webster Groves High School, officials said.
3 tweets
www.stltoday.com - Voters could see stormwater tax proposal if court agrees that fee is illegal.
4 tweets
www.stltoday.com - Prize in Saturday night's drawing will be largest Powerball jackpot ever.
6 tweets
www.bizjournals.com - Wexford Science & Technology, the company developing the Heritage Building at the...
17 tweets
2013grad.wustl.edu - Celebrate with the WUSTL class of 2013! Watch Commencement live, share your experiences via social media, see the day in photos and send congratulations.
17 tweets
Retweet Successful
You have retweeted the selected tweet and it will now appear in your timeline. If you didn't mean to do this, or changed your mind about retweeting this message, you can click the "Undo Retweet" button below.
Retweet Successfully Undone
You have successfully undone the retweet. You may still see the retweet on STL Tweets, but it has been removed from your official timeline on Twitter.